I recently had BOTOX® injections provided by a cosmetic surgeon. Before this experience, I believed plastic surgeons and cosmetic surgeons were one in the same. I was wrong, and I bet I'm not alone.
Cosmetic vs. Plastic Surgeon: What's the Difference?
According to the American Board of Cosmetic Surgery (ABCS), though the two are closely related, and it's not uncommon for a plastic surgeon to practice cosmetic surgery, there is a difference. For instance, a plastic surgeon's goal, in general, is to correct or reconstruct defects or trauma abnormalities including congenital defects, breast reconstruction, scar revision, etc. These types of surgeries are usually covered by a patient's medical insurance because they are deemed medically necessary.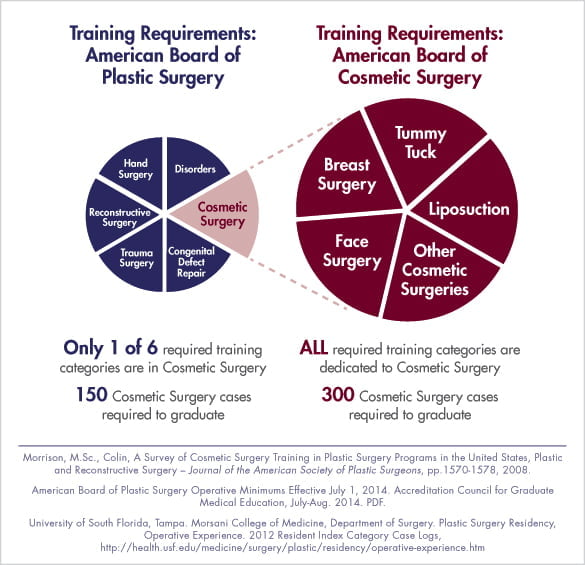 Graphic Provided By American Board of Cosmetic Surgery
On the other hand, the cosmetic surgeon is focused on the enhancement of what are considered normal body parts. Enhancements can include breast augmentation or a lift. It can also involve body contouring by the use of liposuction or a tummy tuck and even skin rejuvenation by laser resurfacing, fillers, or BOTOX. It can also incorporate facial rejuvenation including a facelift, neck lift, brow lift, or eyelid lift (blepharoplasty) or facial contouring which includes rhinoplasty (nose surgery). All of these procedures can enhance one's appearance, but are not deemed medically necessary and, therefore, are rarely covered by medical insurance.
What Does it Take to Become an ABCS Board Certified Cosmetic Surgeon?
Becoming a cosmetic surgeon starts with medical school and then residency. According to the ABCS, there are no residency programs in the U.S. at this time devoted exclusively to cosmetic surgery. Instead, cosmetic surgeons complete their training in post-residency fellowships.
To become an ABCS Board Certified Cosmetic Surgeon, candidates must have completed one of seven approved Residency Programs and then a minimum one-year fellowship exclusively in cosmetic surgery. During their fellowship, surgeons must receive thorough instruction in all cosmetic surgery procedures of the body, breast, and face as well as non-surgical cosmetic treatments and must have complete 300 procedures.
After a successful residency program and fellowship, candidates must pass an oral and written Board Certification Exam. Recertification exams are required every ten years to maintain board certification.
Who Can Perform Cosmetic Surgery?
Unfortunately, any licensed physician can legally do so no matter how her training was received. That can include taking weekend seminars on cosmetic surgery. In fact, my dentist offers BOTOX injections in his office along with teeth whitening and cleaning. While I'm sure millions of procedures are done by doctors and dentists with minimal training, I deserve the best, so I sought out a Board Certified Cosmetic Surgeon for my procedure. It doesn't mean that something couldn't go wrong because of course, it can, but I like hedging my bets with someone well-trained in the procedure I've opted to have and one who's done it hundreds or thousands of times and not someone who does it as a side business.
My Board Certified Cosmetic Surgeon is Dr. Alexander W. Sobel
Dr. Alexander Sobel is an award-winning, double board certified surgeon in cosmetic surgery and Otolaryngology (facial cosmetic surgery) who has performed thousands of cosmetic procedures. Located in the Seattle-area, Dr. Sobel specializes in cosmetic surgery of the face, breast, and body.
Did you know the difference between a Cosmetic and Plastic Surgeon? Is Board Certification important to you?
Find out more about Cosmetic surgery and board certification on the ABCS website.