This post brought to you by Sam's Club . The content and opinions expressed below are that of Baby to Boomer Lifestyle.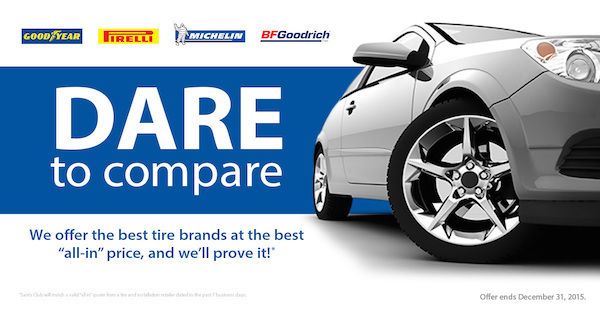 I know, it's time to start your holiday shopping, so the last thing on your mind is your tires. But let me tell you, there's no greater gift than you can give yourself than the safety of your family. That's right. Tires are more important than most people think, especially now that the weather has turned cold and wet. Tires are your first line of defense from losing control of your car. Driving around on bald or worn tires can lead to disaster. They've lost their ability to grip the road, and that can mean a crash.
But worn tires can also mean blowouts that can cause an accident or leave you stranded in an unsafe area. That's why we check our tires regularly and replace them when they start to show signs of wear. And yes, they come before any holiday shopping. We've given tires as gifts to our adult kids, and we've given each other snow tires as our Christmas gifts.  They last much longer than presents which are tossed aside soon after the holiday.
New tires provide safety and stability for years (depending on your driving habits). Plus, during the holidays we tend to travel more. Trips to the mountains to ski, across the state to visit relatives, and to grandma's house just a few miles away. Having new tires means we'll save gas on our trips too! Properly maintained tires are a proven way to reduce gas consumption.
Think about your tires before the holidays are in full swing and if you need to replace them, now is a great time. Sam's Club Dare to Compare promotion (#DareToCompare) allows you to shop for Goodyear, Michelin, BF Goodrich, and Pirelli knowing you're protected with their all-in price matching offer. Each purchase includes their Tire Installation Package* which includes tire mounting, tire lifetime balancing and rotation, a valve stem, 24-hour emergency roadside service, and no-charge tire lifetime flat repair as long as you remain an active Sam's Club member. 
How do you take advantage of Sam's Club's Dare to Compare Price Matching Offer?
Geat an "all-in" quote from any other tire sales and installation retailer and take it to the Sam's Club Tire and Battery Center service counter. To be valid, the quote needs to be written with the past 7-business days and be printed on the retailer's/dealer's letterhead. The quote must be for the same tire – same brand, line, load index, and speed rating (service description) as the one you'll be purchasing at Sam's Club.
To qualify for the Sam's Club equivalent tire products, they use the following table: Sam's Club will compare the club-specific tire line to the equivalent general-market tire line. Sam's Club considers the following tire lines to be equivalent and will price match accordingly:
Club-Specific Tire Model

BFGoodrich Touring T/A
Michelin Defender XT
Michelin X Radial LT2

General-Market Tire Model

BFGoodrich Advantage T/A
Michelin Defender
Michelin LTX M/S2

Pirelli

9/18/2015 – 11/30/2015
$80 Instant Savings

BFG

9/25/2015 – 11/7/2015
$50/$70 off set of 4
Before you start your holiday driving, stop by your local Sam's Club to have your car check out and new tires put on, so you're ready for whatever winter weather you encounter. Where will you be headed for the holidays?
* Complete terms and conditions of all Sam's Club warranties and services can be obtained at any Sam's Club Tire and Battery Center location
Enter to Win a $500 Sam's Club Gift Card!