This is a Sponsored post written by me on behalf of Atlantic Luggage for SocialSpark. All opinions are 100% mine.
Sometimes I hate travelling. Having issues with my bag doesn't make it any easier. After being embarrassed by having to remove items from my carry-on bag to get it to fit into the overhead bin on my last two trips, I've been thinking about buying a new carry-on bag. While my current bag is technically within the size standards, the problem is that it is expandable and the more stuff I shove into pockets, the less likely it is to fit.
After it happened the second time, the buildup of angry people waiting behind me as I tried in vane to keep anything embarrassing from falling out of my bag, made me realize it's time to look at a hard sided bag which would make it impossible for me to accidently over-stuff it. I've looked at several brands, but the weight of them made me hesitate from making the switch.
Atlantic Luggage: Make Travel Easier With the Right Bag
I've just discovered the Atlantic Luggage Lumina™ line of bags. They're hardsided bags with a polyurethane finish that gives them strength, but doesn't weigh them down. But even more importantly, they have a dual-wheel spinner system with is a must for any new bag I buy. I'm tired of dragging a bag behind me and yes, I know it's a vast improvement from the days when we had to carry our luggage through the airport, but if I'm going to invest in a new bag, it's going to have the ease of inline skate wheels. The pure joy of having a bag that moves with the touch of a finger, instead of yanking it behind me, is just too tempting as connecting gates get further and further apart.
At around $100, the Atlantic Luggage Lumina carry-on bag is on par with most hard-sided carry-on luggage, plus it's also got a 10-year warranty. It comes in that fabulous red color above, but also a blue and black (though I would LOVE the red myself).
That's my dream luggage? What's yours? Atlantic® has several collections available so there's something for everyone. Plus right now they have a sweepstakes where the winner and his/her family gets a vacation to LA or DC!
Win a Family Trip for 4 Sweepstakes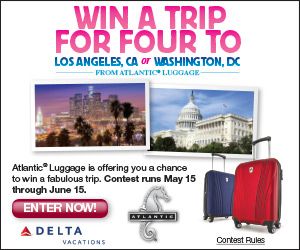 Atlantic®Luggage is offering families a chance win a trip! One lucky winner will win the "win a family trip for 4" Sweepstakes to their choice of either Los Angeles, CA or Washington, DC. The trip includes airfare, hotel, $300 activity allowance, and 4-pieces of Atlantic luggage.
Go enter now and good luck!