This post brought to you by ALPO® Brand Dog Food. All opinions are 100% mine.
My son's dog, Roo, is the closest thing we have to a grandchild so we feel it's our duty to spoil him whenever he comes for a visit. Beyond the toys and treats we keep on hand for him, we recently treated him to a wet dog food meal which the manufacture says is 100% complete and balanced and made from quality ingredients.
What did we give him? ALPO's® Chop House line of wet dog food. It's available in two sizes and in four different flavors including T-Bone Steak Flavored Cuts, Tender Cuts with Lamb, Filet Mignon Flavor, and Rotisserie Chicken Flavored Cuts. I chose the Filet Mignon flavor for Roo. While he was out playing fetch with the hubby, I prepared his treat in the kitchen.
Roo takes the ALPO® Chop House Dog Food Challenge
The Filet Mignon flavor has a strong scent which dogs will love. I scooped it out of the can and placed it in a bowl to deliver to Roo in the backyard. We didn't have to tell Roo twice that he could taste the treat before he barreled up the stairs to sample it.
As you can see from the video above, he loved the food and would have eaten the whole bowl if we would have let him. However, like any dog food change, it's best to transition slowly from your pet's old food to the new food to avoid stomach upset or bowel changes.
ALPO® Chop House Dog Food Challenge
Roo spent a few minutes eating and then went back to playing fetch. This boy has energy to spare and he needs a food that can keep him going as long as grandpa can.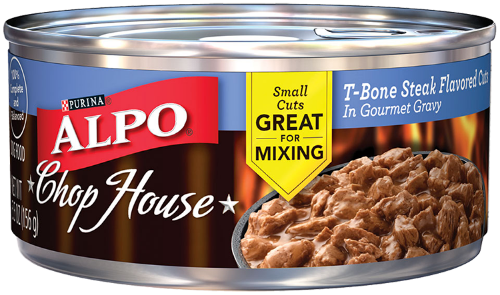 ALPO's® Chop House wet food can be mixed with dry food or fed alone. It can be given to dogs of any age and will help build strong bones and teeth and healthy coat of hair. Find out more about the nutritional values ALPO's® wet dog food line as well as all of the food in the  ALPO® line of pet food on their nutrition page. Also friend  ALPO's Facebook Page and follow ALPO® on Instagram for  fun pet pics and info on all of ALPO's variety dog food.
What's your dog eating?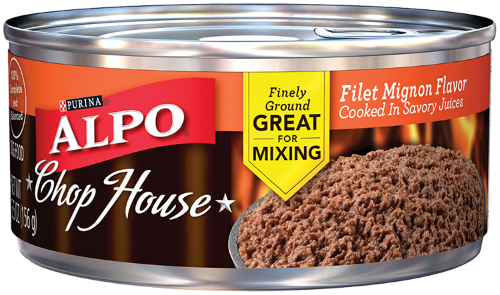 ALPO® on Instagram.