This post brought to you by PeiWei. All opinions are 100% mine.
This is a crazy time of the year. With holiday prep and parties, we are pretty much booked from now until the New Year. That means I won't always have time to fix a healthy dinner for my family; however, that doesn't mean we have to resort to high fat and calorie laden fast foods. There are healthier choices!
Pei Wei Asian Diner, owned and operated by P.F. Chang's China Bistro, is one of those better-for-you options for a quick and easy lunch or dinner. They offer a menu full of fresh, high-quality Asian-inspired cuisine with your choice of 35 hand-cut and fresh ingredients. All of their menu items are made-to-order (aka wok'd to order) so you get it exactly the way you want it and it's hot and fresh.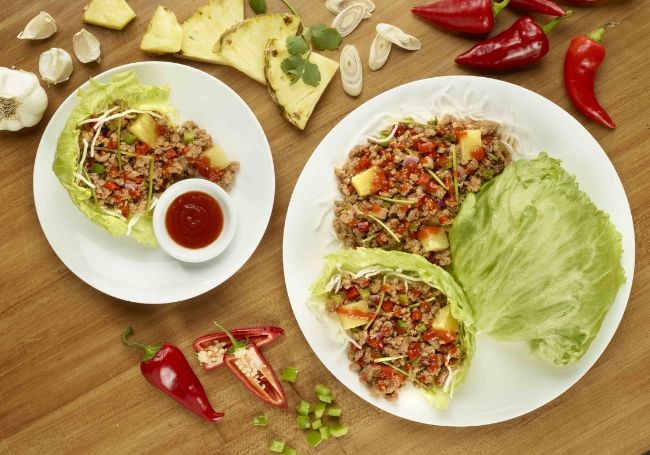 Pei Wei Lettuce Wraps
Plus they offer lots of lettuce wraps which are delicious but lower in calories than a something on a bun. Flavors like their new Sriracha Pineapple Pork Lettuce Wrap (just $6.95 for all-natural, wok-seared pork with a combination of fresh cut ingredients like pineapple, red onions, and red and green peppers all topped with a kick of Pei Wei's own Sriracha sauce and served with cool, crisp lettuce cups). This limited edition wrap is only offered through December so pick one up soon.
If sweet & spicy isn't your thing, they have additional lettuce wraps like Traditional Chicken, Thai Chicken, and Korean Steak. Plus there are plenty of options for vegetarians like me and those on gluten-free diets.
Take a few minutes from your crazy scheduled and eat in their casual dining room or take it to-go – whatever fits your mood and/or timeframe.
Buy yourself a little rest and relaxation this holiday season and gift yourself with a healthy meal. Visit Pei Wei and try out the Sriracha Pineapple Pork Lettuce Wraps!
Connect with Pei Wei
Explore the full Pei Wei Asian Diner menu 
Like Pei Wei on Facebook
Follow Pei Wei on Twitter
Follow Pei Wei on Pinterest