Anna Paquin, Mark Ruffalo, Matt Damon and Matthew Broderick Impress in Writer/Director Kenneth Lonegran's Masterful Portrait of a Young Woman's Haunting Coming-of-Age Story on Blu-ray Combo Pack July 10
"Margaret" is not light and sunny; far from it. In fact, it starts out creepy, grim, and grisly and it rarely strays from that; but it's also heady, thoughtful, and one of the best films I've seen this year.
Anna Paquin of "True Blood" fame plays a 17-year-old New York City high-school girl that's coming of age and dealing with her emotions while trying to come to grips with life after witnessing a horrible accident. Mark Ruffalo plays a working man who tries to escape the truth and avoid the penalties his actions caused. Their worlds collide for just a few moments but it's long enough to have lasting impact on them both.
The movie "Margaret" is based on a poem by Gerard Manley Hopkins entitled "Spring and Fall." The interactive guide below highlights what the firm's director, Kenneth Lonergan's, sees as parallels between the poem and the movie.
Minor roles are played by Matt Damon, Allison Janney, Jean Reno, and Matthew Broderick. The film certainly earned it's R-rating with its vivid crash depiction and it's teacher/student liaison – there are definitely adult themes in this film.
This is a dark film but it's certainly worth watching. It brings up some interesting concepts about fairness and the law.
MARGARET Movie BLU-RAY COMBO PACK:
Subtitles: English/ French/ Spanish
U.S. Rating:  R
Total Run Time:        2:29:49
Studio: Fox Searchlight
DVD Release Date: July 10, 2012
MARGARET POEM INTERACTIVE STUDY GUIDE
(Hover over one of the green leaves for videos, documents, and more)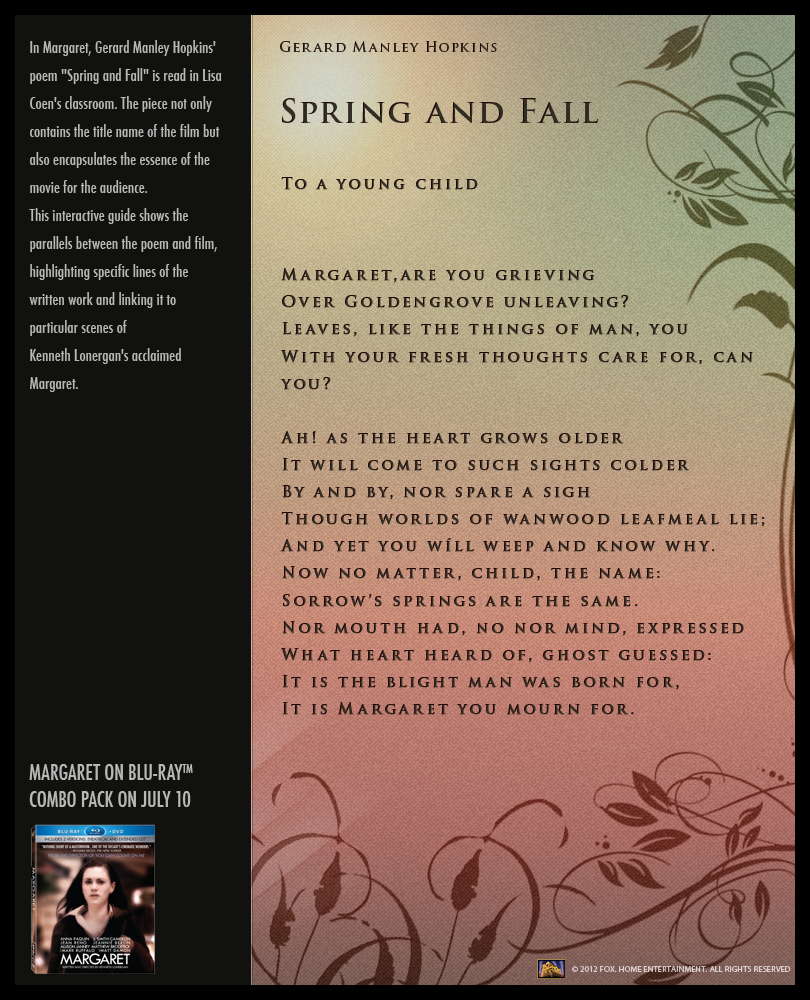 ---
I was provided a screener disc in which to view this film for review purposes – I was not compensated for my work and all opinions are my own.
Related articles
Pregnant Anna Paquin Parties With True Blood's Finest (popsugar.com)